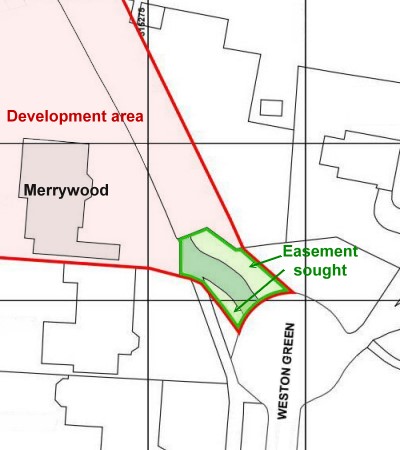 Developer seeks approval from the Secretary of State for an expanded easement over common land for access to the Merrywood development (2020/1795)
As anticipated in our earlier article, the Merrywood developer, Igloo Land Ltd, has applied to the Secretary of State for Environment, Food & Rural affairs for approval of an expansion of the existing easement across Weston Green Common to facilitate expanded vehicular access to its planned 26-dwelling development.
The development was approved by majority vote in the Elmbridge Planning Committee, despite opposition by Residents' Association Councillors. Subsequently an application for expanded access over common land was refused in an Individual Cabinet Members meeting; however this decision was later overturned in a full Council meeting.
Igloo Land have now submitted their application and posted public notices in the area near Merrywood. Members of the public may submit letters of representation on this matter - to the Planning Inspectorate Commons Team (see below) by 4 March 2022.
The TD & WG Residents' Association will be submitting an objection, which will be published on this website. Residents similarly opposed to the application should take advantage of the opportunity to comment and make their views known. At this stage it would inadvisable to refer to the rights and wrongs of the planning consent itself - that is not what is under consideration by the Secretary of State, and it would not be helpful referring to it. Rather, arguments should relate purely to the principle of granting the easement across common land, such as :-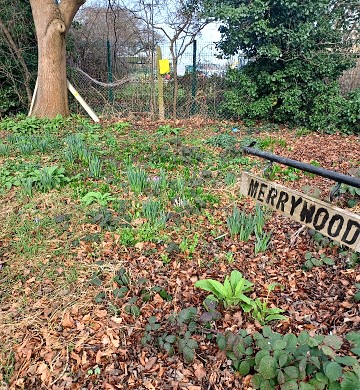 Setting a precedent (there are very few cases in Elmbridge).

The historical grounds of changing the existing agreement substantially from what was originally intended (ie. access to a single private dwelling).

The subsequent harm that it will cause to common land.
It can also be noted that there are other potential options available to the developer to gain access to the Merrywood site (via Weston Avenue or Hampton Court Way), without having to cross common land.
Igloo Land's application to the Secretary of State has just recently been posted on the Elmbridge Borough Council website - Click here to download a copy (PDF file, 16MB).
Letters of representation, quoting Reference No. CL268 (Weston Green Common), should be sent to:
The Planning Inspectorate, Commons Team
Room 3A Eagle Wing, Temple Quay House
2 The Square, Temple Quay
Bristol BS1 6PN
Or sent via email to:
commonlandcasework@planninginspectorate.gov.uk