We Need Your Help to Fight Aldi's Planning-Application Appeal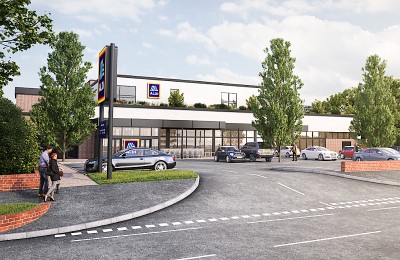 Aldi are proposing to build a large store on the Guy Salmon site on Portsmouth Road in Thames Ditton. Their planning application (2021/3857) received more than 650 letters of objection, and Elmbridge Council's Planning Committee rejected it on the basis of:
Overbearing impact on nearby dwellings.

Not an effective use of land, and its adverse impact on the vitality and viability of Thames Ditton and Hinchley Wood local centres (since withdrawn by the Council).

Intense commercial use being out of keeping with the character of the area.

Harm to the Conservation Area setting that is not outweighed by any public benefit.

Lack of provision for sustainable travel to the site; loss of cycle lane.
But Aldi have appealed, and the Public Inquiry to hear it will take place from 20th June, for up to 12 days, at the Civic Centre in Esher. Thames Ditton & Weston Green Residents' Association are backing a 'Rule 6' involvement at the Public Inquiry. This allows us to make representations, employing a specialist planning barrister and expert witnesses, to give us the best chance of ensuring Aldi's appeal is refused.
UPDATE Elmbridge Council have notified the following details about the Inquiry:
The Appeal Inquiry has been scheduled to start at 10am and will be spread over 3 weeks - 20th to 23rd June and 4th to 7th July. It will be held in the Council Chamber at the Civic Centre, High Street, Esher, Surrey KT10 9SD.
Why are we fighting this appeal?
We are not against Aldi but TDWG RA strongly feel that this is not the right site for a supermarket. This is about the 'land not the brand'. These are the main reasons why so many local people are worried by Aldi's proposal:
It would draw critical business away from Thames Ditton village (and Hinchley Wood), threatening the viability of these centres.

The local shops in the village rely on each other to attract footfall to keep them in business.

Traffic congestion, noise, fumes; not to mention the removal of the cycle lane to allow more room for cars.

Car and pedestrian safety issues at the Giggs Hill Road/Angel road junction with the Portsmouth Road (already an accident black spot).

There is no under-provision of supermarkets in the area; therefore no need for any additional supermarket. There is already an Aldi and a Lidl 2 miles away (in Chessington and Kingston).

No footfall benefit to any other retailers, unlike a village centre location.

Serious impact on the neighbours at the rear of the site, who would be faced with a 10+m blank wall at the end of their modest sized gardens, as well as the noise and disturbance of long opening hours every day.

Climate-change crisis: This would encourage cars to the site, thereby increasing rather than decreasing the carbon footprint and worsening the air quality for local residents and users of nearby Giggs Hill Green.

We are in a housing crisis and under pressure from the government to release Green Belt for housing. Not being able to use an available 'brownfield' site for residential development (particularly affordable housing) makes resisting the government's pressure more difficult.
How can you help?
The cost of taking part in the Planning Appeal is considerable and we need to raise £20,000 - calculated to cover our legal fees and other expenses.
We appreciate that everyone is facing considerably increased costs at present, but if you are able to help we would be very grateful. We have opened a crowd funding account with Collection Pot:
www.collectionpot.com/pot/3101900
TDWG RA has agreed to contribute £1000 to the account. The fundraising appeal will automatically close when our target is reached, or on 31st August, or when the Inquiry result is announced. It is unlikely that we will have much remaining after the appeal, but should there be any surplus, TDWG RA will put it towards local community enhancement projects.
If you have any queries please contact Karen Randolph on: Karen@randolph-watson.co.uk
We have a thriving village with a bakery, a chemist, a greengrocers, a small supermarket and post office amongst a variety of other businesses: Do we really want to see them disappear?