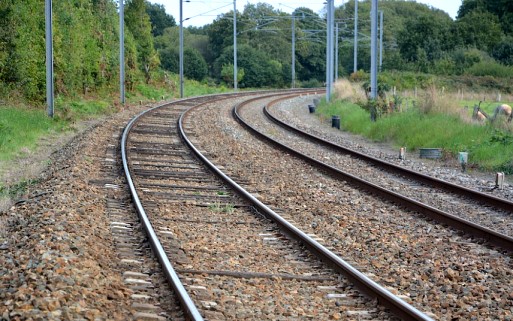 South Western Railway representatives attending the RA's Open Meeting on 29 January were left in no doubt about the frustrations of many commuters using the Hampton Court line, and their dissatisfaction with the performance of SWR. Around a hundred were at the meeting.
SWR was represented by their Regional Development Manager, David Wilby; Regional Manager Central (includes the HC line), Mark Franklin; and the local Station Manager, Scott Cooper.
Numerous questions were put to them, and while SWR's attendance at the meeting was appreciated, it was felt that their answers were often unsatisfactory as regards detail and problem fixing, despite having been informed of the issues to be discussed. This is shown in the follow-up letter (below) from RA Chairman, Graham Cooke, to David Wilby. SWR's Mark Franklin has promised to attend future RA Open Meetings to help deal more with the issues discussed.
Despite the lack of solutions presented to the meeting, Scott Cooper was thanked for his helpfulness and diligence in his work as our Station Manager.
---
Email to David Wilby, 1 February 2019
David,
Firstly, I would like to thank you and your colleagues on behalf of the Association, for attending our meeting on Tuesday. Clearly there is a level of frustration with regard to numerous issues, some of which, we understand, are outside of your control. However, users have a right to expect to be treated fairly and there was a clear feeling that the services to/from Thames Ditton and Hampton Court have suffered disproportionately since you took over the franchise.
As you are aware, no service on strike days and the lack of alternative forms of transport have particularly upset local users. Your franchise agreement clearly obliges you to 'use best endeavours' to provide alternatives. We do not believe that you have done this and would like to see this rectified.
There seemed to be no explanation as to why South West Trains (and previous operating companies) were able to offer shuttle services to Surbiton when problems occurred yet you have been unable to. We would like an explanation.
The system for obtaining refunds is clearly seen as far too complex. When users have paid in advance for a service that is not provided there is an obligation on the provider to recompense. I assume you manage to operate a simple system to deduct wages from those who go on strike for the days they are absent!
The issue of additional costs being incurred when users are forced to take trains to Esher or Hinchley Wood when services to TD and HC are cancelled clearly adds insult to injury. Whilst it is appreciated that this is partly a TFL issue we do expect you to consider how this might be resolved.
You will, I hope, have taken on board numerous suggestions that arose at our meeting in terms of offering an improved service generally; more fast trains, better connections at Surbiton, longer trains on Sundays. We would hope that in the longer term, these aspirations can be met however, the immediate message is that we no longer expect to be discriminated against when problems arise and need to know how you intend to rectify this.
I have copied to Dominic Raab since, in addition being the local MP, is, I understand, also a regular user of services from TD and, presumably suffers the same frustration as other users.
I look forward to hearing from you soon.
Regards,
Graham Cooke
Chair - Thames Ditton & Weston Green Residents' Association