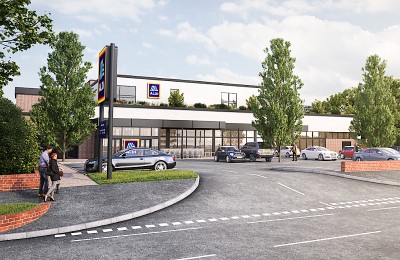 Aldi are proposing to build a new food store on the old Guy Salmon site on Portsmouth Road, and have opened a public consultation prior to submitting a planning application.
Many people living near Giggs Hill Green will have received a communication from Aldi about their proposed store on what was the Guy Salmon site. The site is located on the edge of the Conservation Area (part of the site is within the Conservation Area itself) and next door to a Grade ll listed pub, The Angel. Aldi intend to demolish the existing Guy Salmon buildings and build a store located towards the rear of the site, with 51 parking spaces in front. There will be one exit/entrance opposite Portsmouth Avenue. Aldi anticipate up to 50 jobs will be created on this site. No details of the anticipated opening hours have been provided, but there will apparently be 2 - 3 deliveries per day, though the times of these deliveries are not provided.
You can see more details on the consultation website: https://aldiconsultation.co.uk/thamesditton/
It is important to point out that a planning application has NOT yet been submitted - this is expected shortly after the close of the consultation on Friday 24th September. Once an application has been submitted it will be important for residents to make their views known to Elmbridge Borough Council. We will advise you when comments can be made, together with the number of planning application.
We are well aware of a number of serious concerns about these proposals; however many residents may have only recently been made aware of the existence of Aldi's plans. To make sure we are properly informed, the RA will take a position on this proposal when we have heard views from more residents. Once the planning application has been registered the RA will submit a comment.