VOTE WINNING SUMMER DISPLAYS AT THAMES DITTON STATION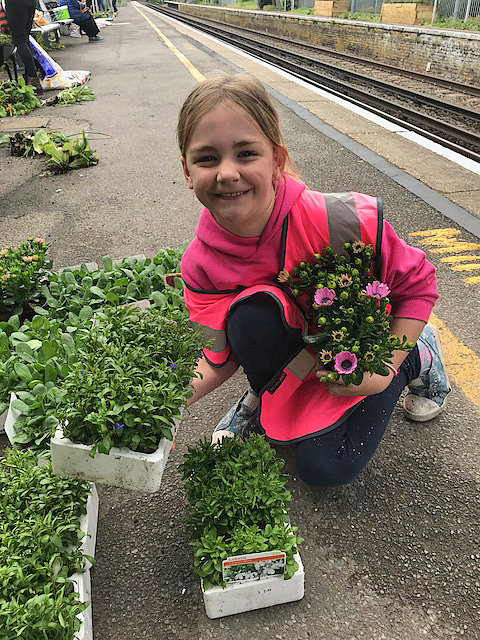 The local elections may be over but Thames Ditton Station is celebrating the centenary of women getting the vote in style with a riot of flowers and herbs in the suffragette colours of purple (for loyalty), white (for purity) and green (for hope) in the 23 wooden planters and 13 wheelbarrows lining platforms one and two.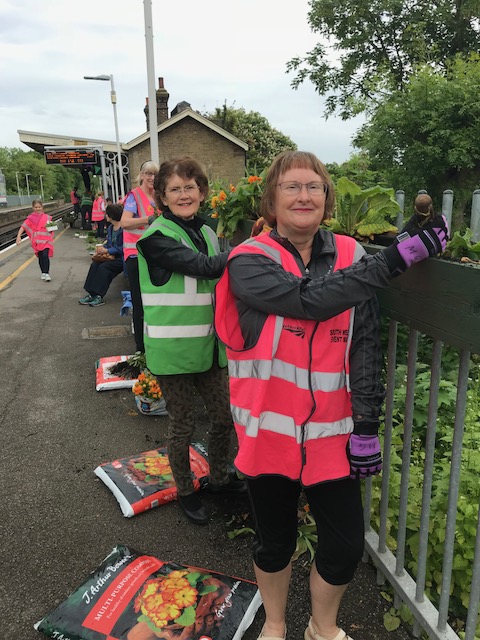 The Thames Ditton In Bloom volunteers, armed with their forks and trowels, joined by station staff, came out in force on Sunday 13 May to plant out the osteospermums, lobelia and petunias plus mint, tarragon and oregano to create the vote winning displays which will dazzle commuters, visitors and residents throughout the summer. The floral designs are further enhanced by fabulous swathes of purple, white and green bunting, handmade by the Thames Ditton Crafters group decorating the inside and outside of the ticket office.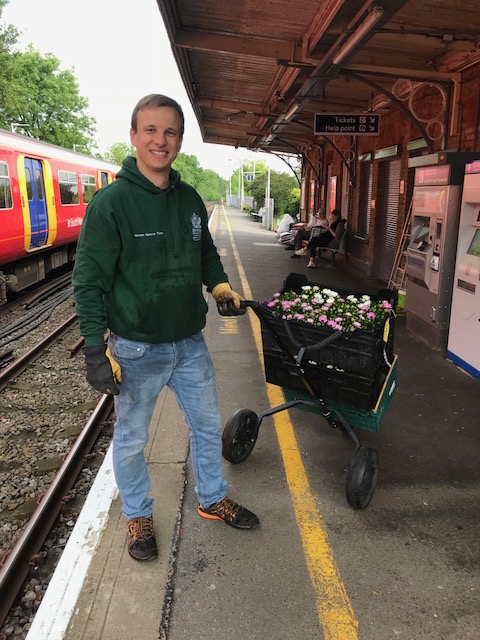 A month earlier the Thames Ditton In Bloom volunteers were hard at work at TD Station with another important planting campaign filling three new large bee friendly planters installed by the Bee Friendly Trust on platform two, with a range of nectar and pollen rich plants. These will utilise existing transport lines to form pollinator corridors, creating an interconnected network of flowering habitats for a world where honeybees can thrive. In addition, the Men In Sheds community group based at the Thames Ditton Centre have built a number of bug hotels on an area to the right of platform one to encourage insects, butterflies and birds and this will soon be complemented by a wildflower meadow area.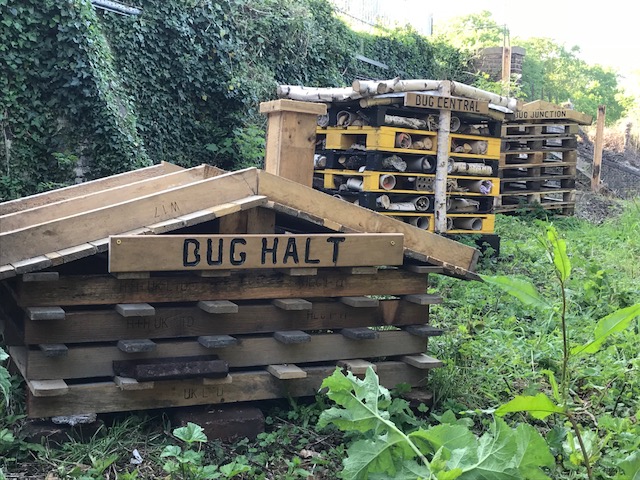 Says Thames Ditton In Bloom organiser, Cllr Tricia W. Bland, "now that Thames Ditton In Bloom has joined forces with the Bee Friendly Trust, the volunteer gardening team is ensuring that the planting at Thames Ditton Station is sustainable and bird and insect friendly. Recent research shows that over the last few decades the UK has lost 97% of its wildflower meadows, making food scarce for our bees. Through the installation of planters filled with bee friendly plants and a wildflower meadow area, we can help create a rich harvest of flowers to help our precious honeybees survive and thrive.'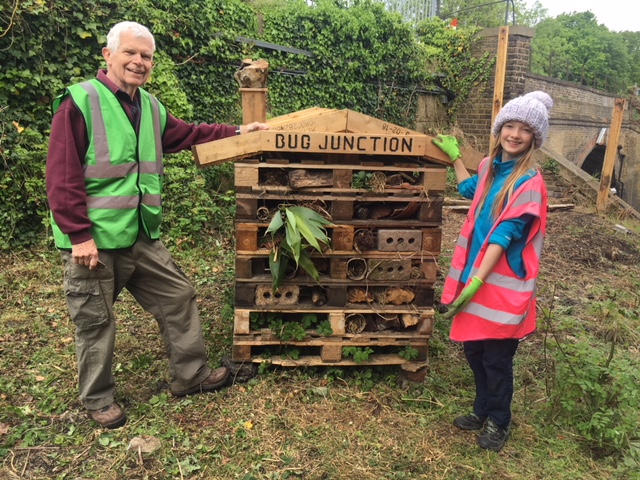 'Thames Ditton In Bloom was formed in 2016, initially to celebrate the Queen's 90th birthday celebrations and since then the initiative has grown and grown. Our work on Thames Ditton Station has brought community groups together and cheered the daily journeys of our commuters as well as visitors to Thames to Ditton and those en route to Hampton Court. In addition, we are now gardening other areas of the village, including the High Street while inspiring others Stations to start up gardening projects – including Berrylands and Surbiton. Not surprisingly, Thames Ditton is fast gaining a reputation for being the 'garden of Elmbridge' in terms of its Thames Ditton In Bloom gardening initiatives.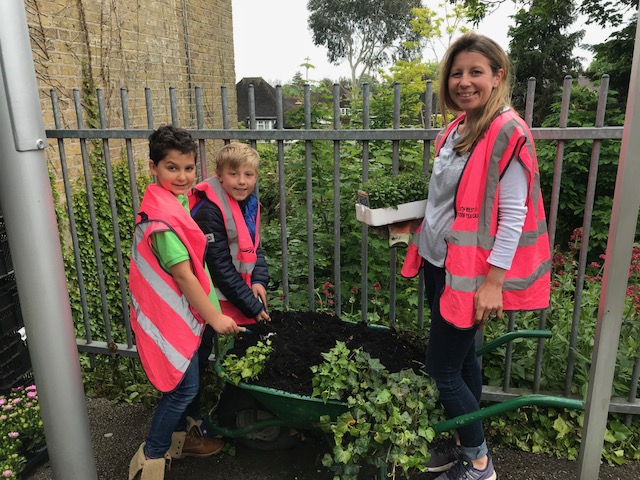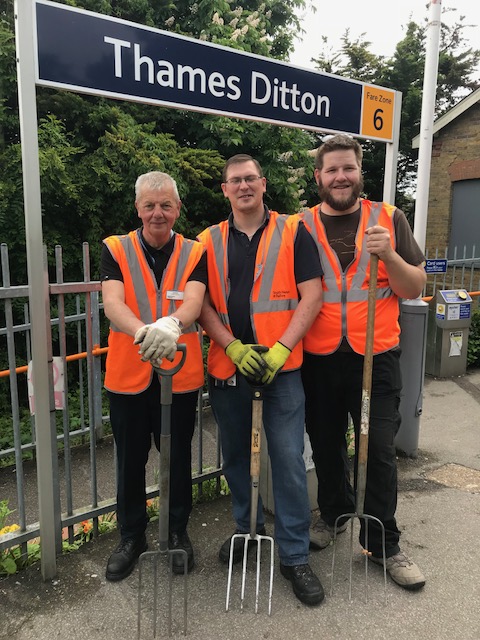 'The work of Thames Ditton In Bloom would not be possible without the generous support of locals who donate in our collection tin in Café Noir and more recently the George & Dragon pub. This year we have also been fortunate to receive an amount of funding from the RHS National Garden Scheme, via its Elspeth Thompson Bursary designed to encourage community gardening projects aimed at bringing the community together by the sharing and acquiring of horticultural knowledge and skills and by inspiring a love of gardening across all age groups and we continue to be supported by our Thames Ditton Residents' Association and EBC's Elmbridge In Bloom'.
For more information on everything Thames Ditton in Bloom, and to become a volunteer,
contact Tricia W. Bland: tdwgra@the-blands.co.uk