THAMES DITTON IN BLOOM GARDENS THE STATION FOR OUR THREATENED HONEYBEES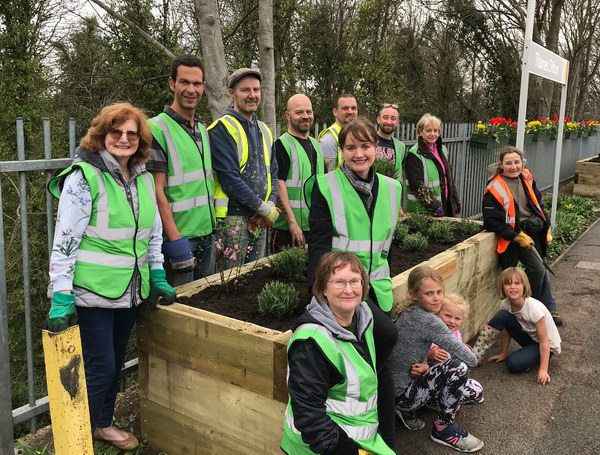 The sun was shining when the Thames Ditton In Bloom (TDIB) volunteers gathered at Thames Ditton Station on Sunday 8th April to greet the team from the Bee Friendly Trust for the latest phase of their gardening initiative at Thames Ditton Station.
For many months TDIB has been working on plans to install a number of large Bee Friendly Trust planters, constructed from sustainably sourced railway sleepers, filling them with a range of nectar and pollen rich plants. Sited alongside platform two, these will utilise existing transport lines to form pollinator corridors, creating an interconnected network of flowering habitats for a world where honeybees can thrive.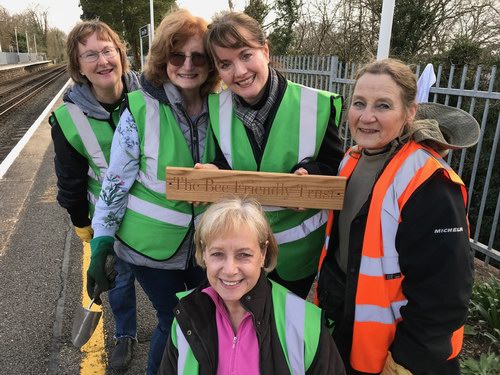 While the planter builders set to work constructing the three bee friendly planters on platform two, the TDIB volunteers and Station staff set about clearing the banks for other planting and preparing the waste ground area at the entrance to platform one, in readiness for the creation of a wildflower meadow area. When laid, the Men In Sheds community group will install a number of bug hotels they are making especially for the project to encourage insects, butterflies and birds, providing homes and food for many of the creatures than enrich our lives.
Says TDIB Organiser Tricia W. Bland, 'Recent research shows that over the last few decades the UK has lost 97% of its wildflower meadows, making food scarce for our bees. Through the installation of planters filled with bee friendly plants and a wildflower meadow area, we can help create a rich harvest of flowers to help our precious honeybees survive and thrive.'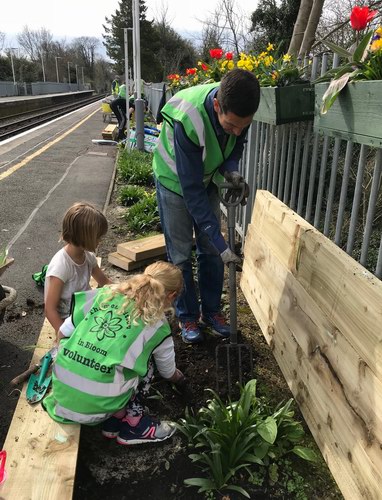 The TDIB collaboration with the Bee Friendly Trust is receiving support from the RHS National Garden Scheme via its Elspeth Thompson Bursary which encourages community gardening projects aimed at bringing the community together by the sharing and acquiring of horticultural knowledge and skills and by inspiring a love of gardening across all age groups.
Thames Ditton Station's wildflower meadow area will be in situ within weeks, then on Sunday morning 13th May, the TDIB volunteers will be gardening the station again, planting the 23 railing and floor standing planters plus 12 wheelbarrows with Summer flowers.
If you would like to join the Summer planting of Thames Ditton Station on 13th May (no gardening experience required, only enthusiasm and your own trowel!), please contact Tricia at: tdwgra@the-blands.co.uk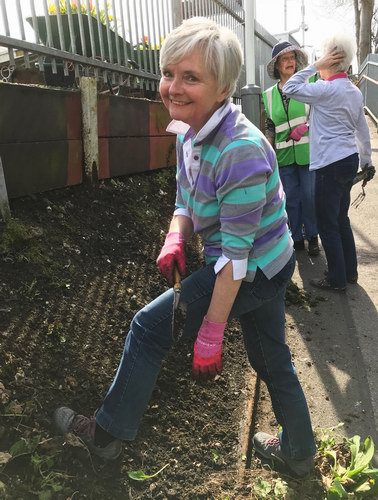 If you would like to donate money or plants to Thames Ditton In Bloom at Thames Ditton Station, there is a collecting tin at Café Noir on platform one, or you can donate via the Thames Ditton Foundation.