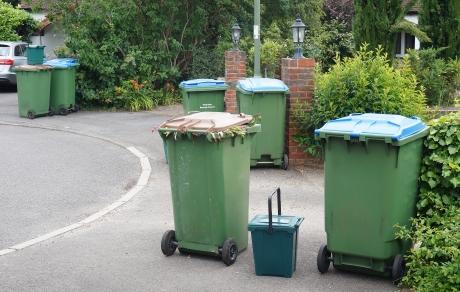 As many residents are aware, the changeover to the new waste-collection contractor has not gone smoothly, with bins being left unemptied in a lot of roads. This has not been helped by confusing advice that has been given by Elmbridge Council when residents have reported missed collections. Your Councillors have been active in trying to get the correct advice out to those affected.
The leader of the Council, Stuart Selleck, has issued the following statement.
The situation with waste collection in Elmbridge last week and this week has been unacceptable and I apologise to our residents for the annoyance and inconvenience this is causing. Our new contractor, Amey, is not yet providing the service we demand but we are working with them to ensure the situation is resolved as soon as possible.
While Amey's performance is improving and a high percentage of refuse and recycling is being collected on the correct day, there is an issue with food waste collections and clearing the backlog is a priority for them and for us.
I would like to reassure our residents that both Amey and Elmbridge Borough Council are working hard to implement an extensive catch-up exercise to ensure this service is brought back to the high standard we expect.
Once again I apologise to our residents and ask for their patience while we work with Amey to ensure all missed street collections are completed.
The Council website has a page which lists the roads known to have been missed, and the date by which this will be rectified - for the TDWGRA area this is Saturday 17th June. To see the list, go to: http://www.elmbridge.gov.uk/waste-and-recycling/missed-bins/ .

If you've had a missed collection and your road is not on the list, use the link on the web page to report it to the Council.