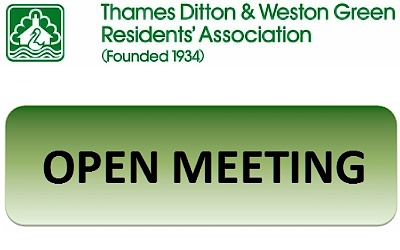 Tuesday 21 September 2021, 8.00 pm

Vera Fletcher Hall
4 Embercourt Road, Thames Ditton KT7 0LQ

Any Questions, Comments or Problems?
This is your opportunity to discuss issues of concern with
your Elmbridge and Surrey Residents' Association Councillors.

All residents of Thames Ditton ward
and Weston Green are welcome
For residents' comfort and security, seating in the hall
will be well spaced and windows opened for good ventilation.
AGENDA
1. Welcome and apologies for absence
2. Minutes of previous Open Meeting on 20 July 2021
3. Matters Arising
4. Update on Planning Applications
5. Reports from Association Officers
6. Reports from Association Councillors
7. AOB
Date of next Open Meeting:
30 November 2021 (Vera Fletcher Hall, Thames Ditton)
Email: secretary@residents-association.com