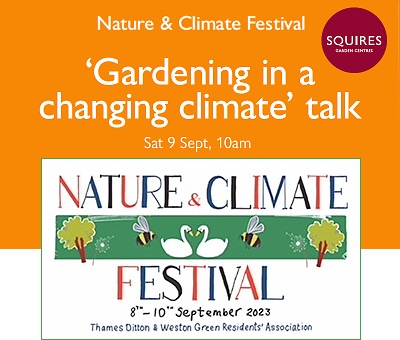 Free talk by Squires on:
Gardening in a Changing Climate
Our Saturday programme for the Nature & Climate Festival weekend (8-10 September) kicks off with a talk by experts from Squires Garden Centre on Gardening in a Changing Climate at 10am in the Thames Ditton Centre for the Community.
We're all noticing how things are changing due to climate change and gardening 'rules of thumb' don't necessarily apply any longer.
In this talk, Squires team will give us hints and tips on how we can create beautiful gardens that are more resilient. Learn which plants are better placed to survive the hotter summers and wetter winters and what methods we can adopt to keep our gardens sustainable.
A collection will be made for the Princess Alice Hospice, Squires charity of the year, at the end of this talk.
Click here to see all the events in the Festival programme.